Well I have been on this road before folks and some of you may remember me posting up the discovery of Renault 19 convertible seals a few years back. Well now we have another Elan and as usual it has awful pieces of water retaining sponge purporting to be "seals"
,therefore they had to be rectified so I duly removed them, at that point I did not know what I was going to replace them with but I was confident I would find something so out they came, (about half a cup of water was squeezed from them both combined!).
Then I went off round the yards to see what I could glean, I couldn't find anything on a car in any of the yards that looked ideal, however speaking to the owner of one of the yards he points me to one of the containers and says "have a look in there", well this was a bit daunting to say the least, crammed full of plastics and rubber door/boot seals and all manner of dusty stuff (probably Rats as well!) but I gave it a search and finally found these, 5 of them cable tied together, as soon as I checked the section of Elan seal I had with me it was obvious they were pretty close. Now the main problem here is I don't know what they are from and neither does the old guy!, there are no part numbers on them that I can see and nothing in the container to indicate what they might have come from, so does anyone recognise them possibly?, long shot but you never know somebody just might recognise them from a car they have or had.
So I get them back to the garage and cut a section from one and give it a test fit into the seal channel, I could never have imagined the fit would have been this close, it just pushed in there like it had been manufactured specifically for the Elan, However, not quite perfect as the top part had to be modified to fit the ledge where the roof closes down on it and a couple of studs holes made into the rubber (a tap with a piece of sharp 3mm pipe), the bottom part needed very little work, just a bit thinning on the back of the wide part where the studs go.
The glass closes perfectly on to them as does the mirror and the section below, but the best part is the look, its just so much cleaner and tidier, it really lifts the appearance, the pictures really don't do justice to how they look . The other bonus is......totally water sealed!, actually the first time I shut the door and looked at it I knew it was watertight but I tested it with a watering can and then yesterday it sat out in Scottish monsoon conditions and not a drip got past those seals.
They also fit so well in the channel there is no need for sealant, they don't budge at all and need a good pull to release them.
Profile test piece into the channel, note where the arrow points there is a channel there with the lip up inside it.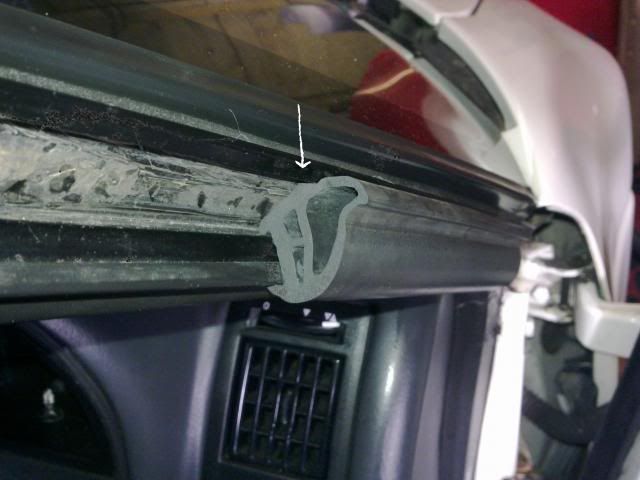 The modified part for the ledge.
Full seal showing the finishing part at the bottom, virtually perfect fit.
Glass closed onto seal with firm pressure, completely waterproof!.
2nd set I made with the other 2 seals.
Seal being push fitted into the channel
The ultimate aim is make it as waterproof as the wee French beast alongside it, a challenge for sure but think
it can be done, ive already done one side of the hood seals with rubber ones but that's another story for another day.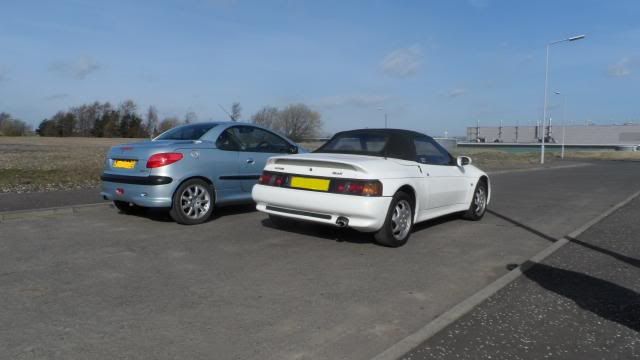 So in summary there is something out there that is a viable alternative to over priced sponges that have a limited life span,
these seals will outlast the car for sure, but what are they and more importantly are they available?.
I will certainly be going back to look for others and will be checking all the cars I can ,
I will know them instantly if and when I find them.
Jamie.