Happy conclusion to this thread now. I managed to get an original airbox from Matt at Lotusbits and fitted it this weekend. The mounting bracket that is sits on was still bolted to the front chassis leg and luckily hadnt been removed. It was flaky and rusty though so i removed it, cleaned it up and repainted it before refitting it. Its the first tech job ive had to do on the car and im learning fast that they can be challenging little creatures to work on. Not a lot of space to get the bolts off and back again. It takes some fettling to be able to get sockets onto the bolts and manage to clear all the rest of the bits in that area.
It sounds maybe 95% quieter now as a standard induction set up. I can still hear a bit of a flutter when i give it beans but im ok with that. I'll probably fit a diverter valve at some point and vent it into the airbox to completely quieten it.
Took the opportunity too to replace the rather withered looking seal/trim around the charge pipe where it enters the inside wing panel. I purchased one of the Healey Sprite fuel filler seals and it does a good job. It actually fits right around the pipe even though the flange makes it look like there is a gap.
Original Induction set up (with tired looking charge pipe seal):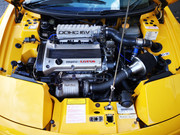 New seal fitted:
Original Airbox finally back in situ: