Hello "Former Lotus Employees"
I understand you are all Elan-ists but wonder if anyone recalls an unusual sibling Lotus.
In 1986 I was delighted to buy a 1984 Norfolk Yellow Elite 2.2 from The Norfolk Motor Company. The previous last Elite was built in 1982.
Maybe it was sales pitch but I was told it was a special build for a Lotus Director maybe Marketing. I remember. It was certainly unusual and did have a few production items from an 84 Excel. I kept the car for two years as my Daily driver and sold it in Inverness to a local man.
The reason I am asking is that I just discovered the car was laid up in 1989 and was allowed to deteriorate. In the last few months it was rediscovered as a "Barn Find" and is being renovated to its original state.
So , do any of you guys recall the car as a part of the Lotus fleet?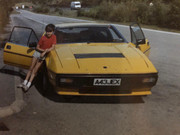 Pictured in 1986 with my son who is now 43!